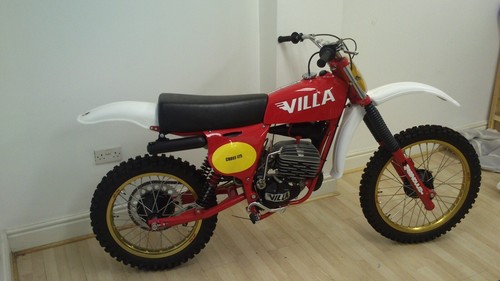 Price: 5,500.00 GBP
Motovilla CR125 – Moto Villa twinshock CLASSIC MOTORCROSS 1978. RARE
Motovilla 125CR motocross bike
1978
This restoration has NOS and or genuine period parts installed. Along with refurbished parts that were either unattainable or parts that were already in great shape but needed replating/ refinishing.
Restoration was about 2011. It was then prepped for dry storage and placed in a motor museum until recently.
Bike does run, please see pictures.
Sadly there is 3 or 4 small paint chips on the chassis/swingarm from its time in the museum, with out these marks this would be in A1/showroom condition, but none the less this bike would still be a stand out piece in any bike show and or a very nice addition to anyones collection.
Buyer will need to arrange collection, and funds cleared into my account on collection, or cash on collection.
Any questions please email me.
Thanks for looking