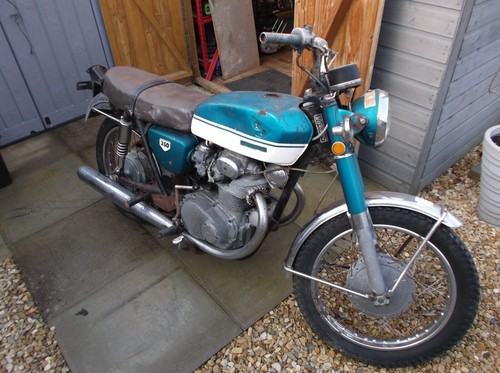 Price: 795.00 GBP
Honda CB350 K2 1970 Vintage Classic Restoration Project Barn Find
Honda CB350 K2 For Restoration
I need the space, so have decided to thin out my collection, and offer for sale this 1970 Honda CB350 K2.  It is pretty complete, but needs full restoration or would be a good source of spare parts.  The engine is free and turns over on the kickstart, but the bike is scruffy.  Bike comes complete with unused Haynes manual.
I have the Kansas title document, but it has no NOVA as far as I'm aware.  It is showing just over 27,000 miles on the speedo.  The rear tyre is shot, the front has tread and holds air.  When registered in the UK, this bike would be MOT and Tax exempt.
No postage – personal pick up from BA13 (Wiltshire).  Payment by paypal or cash on prompt collection.