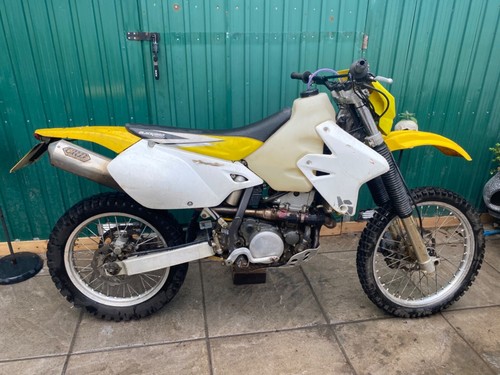 Price: 2,250.00 GBP
Suzuki DRZ400 E enduro bike road legal motorcycle green lane NON RUNNING PROJECT
This is the last time I am going to list the bike and extras as a whole lot, after this, I will be breaking for parts.
This is a non runner/project. Complete bike with lots of extras!
I have owned it since January, only been out on it about 5/6 times. The last ride, she just died on me.
I have done the following (with help from my uncle who has 40+ years worth of motorbike experience);
Replaced starter coil after finding it was faulty.
Checked battery, replaced oil, etc.
Checked/cleaned stator/magneto, all good.
Continuity/resistance test on all ignition circuits, all good.
We now have spark, 
Fuel to carb, and is 

Ticking over, attempting to start.
I have now given up, I really don't have the time or money to sort at the moment.
I had BIG plans for this bike, was going to go for a mid 80s RMZ look, and upgrade as much as possible. Therefore, there are a lot of brand new and used parts which are included in the sale. Including new plastics, seat cover, lithium battery, brake pads, manual cam chain tensioner, even replacement gaskets etc to replace the ones damaged during the investigation work! 
Vegas risers, KTM handlebars, hand guards, lowering kit, CRD exhaust, Blackbird seat cover, case savers, radiator guards, etc etc.
The forks need new oil, included.
Radiator fluid, included.
The carb is currently out as this was the next thing to be looked at.
Get her running and hit the trails as is?
Restore to original?
Scrambler/cafe racer project?
I will be listing elsewhere, so listing could end at any point.