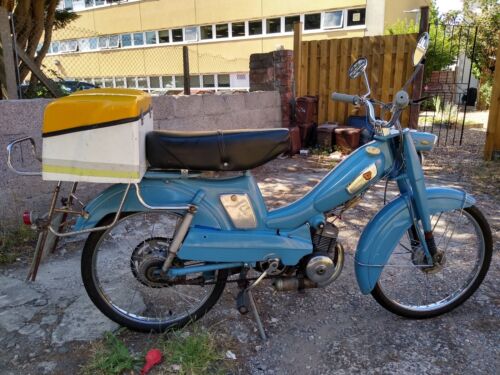 Price: 1,500.00 GBP
1963 Motobécane AV68 Mobymatic Luxe running and registered classic French moped
1963 Motobécane AV68 Mobymatic Luxe running and registered classic French moped. 49 cc max speed 60 km/hr
In good condition, a little rust and few paintwork scuffs in places. Starts and idles just fine, running well. Restored in 2019 and registered in 2020. 711 km on the clock. Frame is original 1963, engine is replacement, year of manufacture 1974. MOT and tax exempt. Original MOT for registration completed and passed. Headlamp and rear light are quite dim. Two new wheels fitted in July 2022- not been ridden on them. Comes with certificate from East Anglian Cyclemotor club confirming origin and authenticity 5 Dec 2019.
Top box is also vintage, year unknown. Fits a helmet easily.
Mirrors are currently not matching as one was replaced with a temporary one.
Automatic 'twist' accelerator and pedal to start. Takes unleaded and oil mix fuel.
Matching blue open faced helmet included in sale. Helmet is in great condition and never been dropped.
This is a reluctant sale- the bike requires regular care and servicing as she is a classic motor, and I no longer have easy access to this and cannot do it myself. Would suit an enthusiast or someone with mechanic skills.