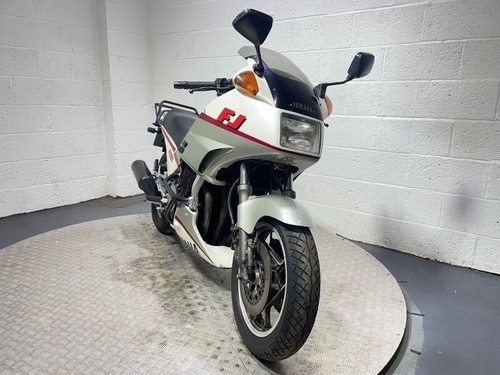 Price: 1,200.00 GBP
YAMAHA FJ1200, CLEAN, SAFE, FAST, MOT, QUICK SALE
QUICK SALE WANTED. THIS IS THE BEST BUDGET FJ AVAILABLE COUNTRY-WIDE,UNLIKE THE OTHERS LISTED IT'S RUNNING WELL, MOT'D AND READY FOR SUMMER!
BUY HIM, GRAB YOUR SADDLE BAGS AND GO!
I am looking for a quick sale at the listed price or very near, or a straight swap for a tidy TDM 850. Easy project considered.
Mk1 FJ1200 1TX  resurrected for my return to biking. Has had a professional end-to-end check and fettle, all mechanicals now as they should be. 
My plan was to ride him through the summer and sort the minor bits as and when or over the winter. But my Parkinson's Disease prevents, and lifestyle has changed so I no longer need so much bike – and he's a lot of bike!
Superb sports tourer, 49ish k miles, goes like the clappers, handles well, great fun to ride. Solid and stable. Fully serviced 300 miles ago with safety in mind.
Good Bridgestone Battlax BT45 tyres
New front brake pads at service
Anti-dive works
New battery
LED headlamp bulb
New fork seals
N-eta 4-2 exhaust, standard stainless downpipes
Safe, solid, FAST and reliable

 

Bits to sort:

Missing a few side panel grommets but all secure, simple fix;

Body / paintwork is generally good with the odd chip or crack here andthere – please see photos, I have detailed everything I can. Nothing majorexcept the belly pan, which still looks great. Please see photos.

Minor oil leak from the sump – a past owner fitted a helicoil and the leakis so minor it's not worth risking tightening more.

Right hand seat catch snapped, can still be operated.

 

A beautiful ride, turns heads and always starts conversations. Original and best – looks like he's doing 90 standing still.

(The aftermarket twin 113Db horns, and the LEDs on the mirror stalks, are notpart of the sale and will be removed / replaced before the bike is collectedunless by negotiation).

 

I am looking for the listed price which seems fair enough, a GOOD offer ora PX my way or straight swap for a tidy TDM 850. Easy project considered.Please contact me with what you have if this interests you – preferably closeto Somerset / 'Avon' / West Wiltshire & Dorset, East Devon so I can view.07512 601038

 

Cash on collection or Paypal.