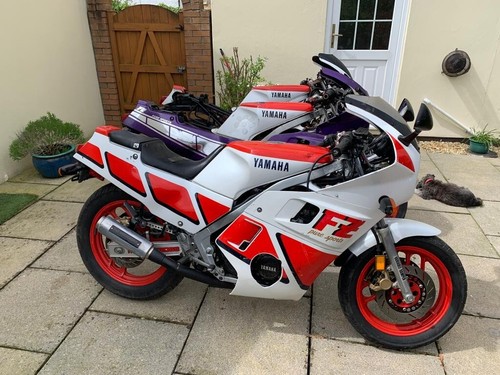 Price: 1,000.00 GBP
Yamaha FZ600 restoration running project, spares, repairs, crmc race bikes x3
Welcome to the auction of my FZ600 project, I need the spacefor a new project, hence someone gets a very sweet deal here.
There are 3 bikes in total, plus a collection of spares.
Bike 1 – The main item
A US import, all duties paid on the Nova website, an MOTwill see this registered in the UK for around £60 (it was around that the last time Iregistered an import).
I bought this bike on eBay in 2021 (£915), roughly for theamount I'm asking for all 3 bikes. It needs recommissioning, I've done verylittle with it other than.
1.      Sourcing a set of locks, 1 key fit's all
2.      A new battery
3.      Fluids changed, engine oil, brake fluid &fork oil/seals.
4.      Basic cleaning & I'm glad to say it firesinto life!
There are cosmetic issues with the fairing & tank (a fewdents & paint imperfections), I've run it from a remote fuel tank to ensureit works, the fuel tank itself will need cleaning/flushing through. It has a Yoshimuraexhaust, it's a good clean base for a restoration. The rear tyre loses pressureover time, I believe it's a relatively simple recommission. All fairings/panelsare original, albeit having been repaired & in need of further work to get themback to an acceptable standard. There is a rip in the rider's seat, the pillionseat looks OK. The electrics all work, the brakes all operate, easy to get toMOT standard or upgrade it to a CRMC bike. It will need felting, as you'dexpect from a project.
Bike 2
A spares bike, UK registered & V5 supplied. It has aftermarketpurple fairings. There is a key for the ignition, I've no idea of the conditionof the engine, I've never attempted to do anything with it.
Bike 3
Another spares bike, I've no documents with this bike (as itcame to me), there is a reg number & all frame numbers are intact, shouldyou wish to apply for the V5. Again, the engine is an unknown quantity to me, I'venever tried anything with it.
Spares
There are numerous spares together with the 3 bikes, brieflylisted as:
1.      A spare engine, not sure if this is a 400 or 600as the Cam cover looks different.
2.     Two used exhausts, the black ones have a dentedend can.
3.      A fuel cap + key
4.      3 sets of forks.
5.      Spare panels & top fairings, look to beoriginal ABS & in need of recommissioning.
6.     Many brake calipers, front & rear, includingmaster cylinders.
7.     Electrical looms
8.     Air box
9.     A full set of carburetors
  10. Swing Arm
1 1. Rear shock
1 2. Oil cooler
  13. Starter motor
1  4. Engine mounts & various brackets
  15. A set of clean MPH clocks
1  6. Stand + other bits as per pictures
     I'd like it all to go as a job lot, as I say I now need thespace. 
     Cash or cleared bank transfer prior to collection.
      I've a number of a very good courier, should you need it, or Shiply.com are always a great source
      Thanks for looking & please ask if you have anyquestions.