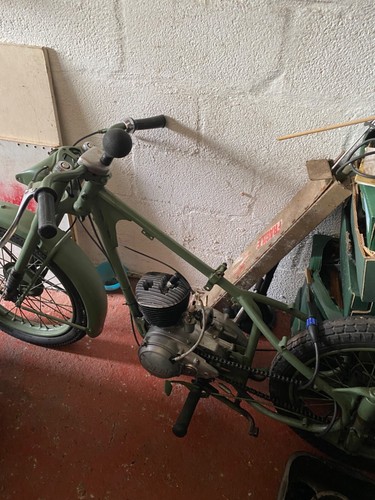 Price: 2,500.00 GBP
BSA Bantam D1 Plunger
Engine has had a rebuild from barrel to head, new piston and rings with the bore honed.
Speedometer and mileage gauge is working properly.
Leak in front tyre but two new inner tubes will be provided not opened.
A brand new mudguard almost identical to original will fit lovely with the slightly too big one as well as a spare which will need to be modified to a better size.
Spare front mudguard as well which will also need to be altered to the correct size.
Two brand new spare tyres.
The tank had a leak so will need touching up and re-painting.
The centre stand plate will need welding but has a spare spring.
Has a new fuel hose with a filter on.
Manual and documents will be provided.
A new electronic system is all ready to be fitted.
I gave it a new speedo cable.
An almost new front and rear light system and lenses.
Transfer stickers are included.
It has a saddle that's not too old.
The paints you need will also come with it.