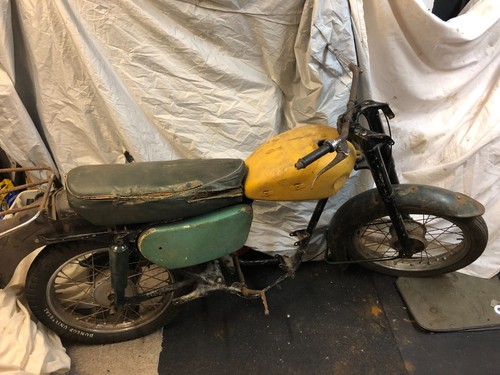 Price: 950.00 GBP
Francis Barnett Falcon 74 – 1957
Frame prefix YM identifies this as a 1957Falcon 74 – no paperwork – I've had this for 10 years and not managed toactually start the restoration apart from gathering some new bits and spares,so it's time for it to go to someone who will restore and ride it. These arelovely bikes, I just haven't got the time to do it.
Please look carefully at the photos – allparts on the rolling chassis are cable tied to it so you can see the parts thatare with it – there is also a spare rear wheel and rear mudguard, spare shockabsorbers, set of gearchange, brake, kickstart levers with spares, spare chainguard and spare handlebars. There are two sets of tank rubbers, THREEcarburettors and spare sets of engine and gearbox cases plus assorted internalsfor both. One set of engine cases has a suitable prefix (071B) to help get anage-related number for the bike. There are three headlamp shells (I neveridentified which one was right for this bike, but one of them definitely iscorrect!) plus a nos headlamp and new rim.
There are FOUR sets of clutch side innerand outer covers, an assortment of cables (one is nos in original box) and itcomes with a new 6v battery, new rear light lens, a brand new quality matchinggreen seat cover from RK Leightons and a brand new exhaust and silencer withchrome still good. Brand new set of footrest/control rubbers and a new enginegasket and bearings rebuilt kit.
There are lots of other little bits andpieces including manuals and a couple of decent Villiers books. – see photos.PM me to come and have a look.