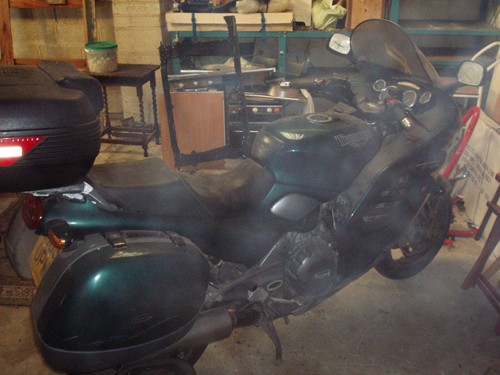 Price: 700.00 GBP
1997 Triumph Trophy 900 triple, N reg. SORN, last run 18 months ago. BARN FIND.
Needs recommissioning. No battery. No MOT. V5, SORN.
I've owned this motorcycle since 1999 and I've done about 24,000 miles on it. It has now done about 50,000 miles. The engine cam chain was changed at about 43,000 miles. It has always had a noisy tick over but this disappears as soon the revs are raised from tick over. It is fitted with Avon tyres.
The main top box is a Triumph accessory, and I have the tool kit and handbook for it. Other Triumph accessories are fitted. (No alarm). 
Some damage to fairing fixings and some scratch marks on side panniers. Some rust/corrosion as would be expected on a motorcycle of this age that has been unused for some time.