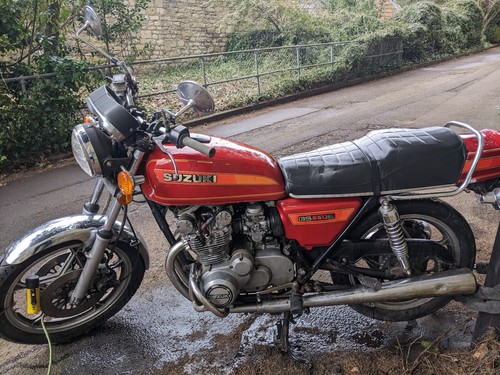 Price: 2,200.00 GBP
Suzuki GS 550 e (1982; Tax/MOT Exempt) – Great Condition, 22,880 mileage
1982 Suzuki GS 550e UK – Only 22,880 Miles!
Great bike, was running fine a year ago but I had to leave it sat as I moved abroad – now I simply don't have time to suss out the final fixes to get it going. I drained the carbs before storing so I'd be surprised if they're seized.

It turns over, but the power seems to cut off *sometimes* when starting the ignition.
Changed the oil and oil filter. Battery is healthy, paintwork is decent with a few small rust nibbles on the edge of the tank, chain and tyres are fine, no rust on engine.
It came with all the papers, 2 spare (I think the original) tyres, AND a nice alternative custom seat for 1 person BUT I can't find it in the family home, will update if I do!
Plus, now qualifies as a historic vehicle so no tax or MOT needed.

IN SHORT: Likely very little time/money needed to get it running nicely again, worst case a carb touch-up, ideal to ride or just restore and sell for a decent profit. Will be genuinely sad to see it go – please don't murder it into a cafe racer or I'll haunt you.