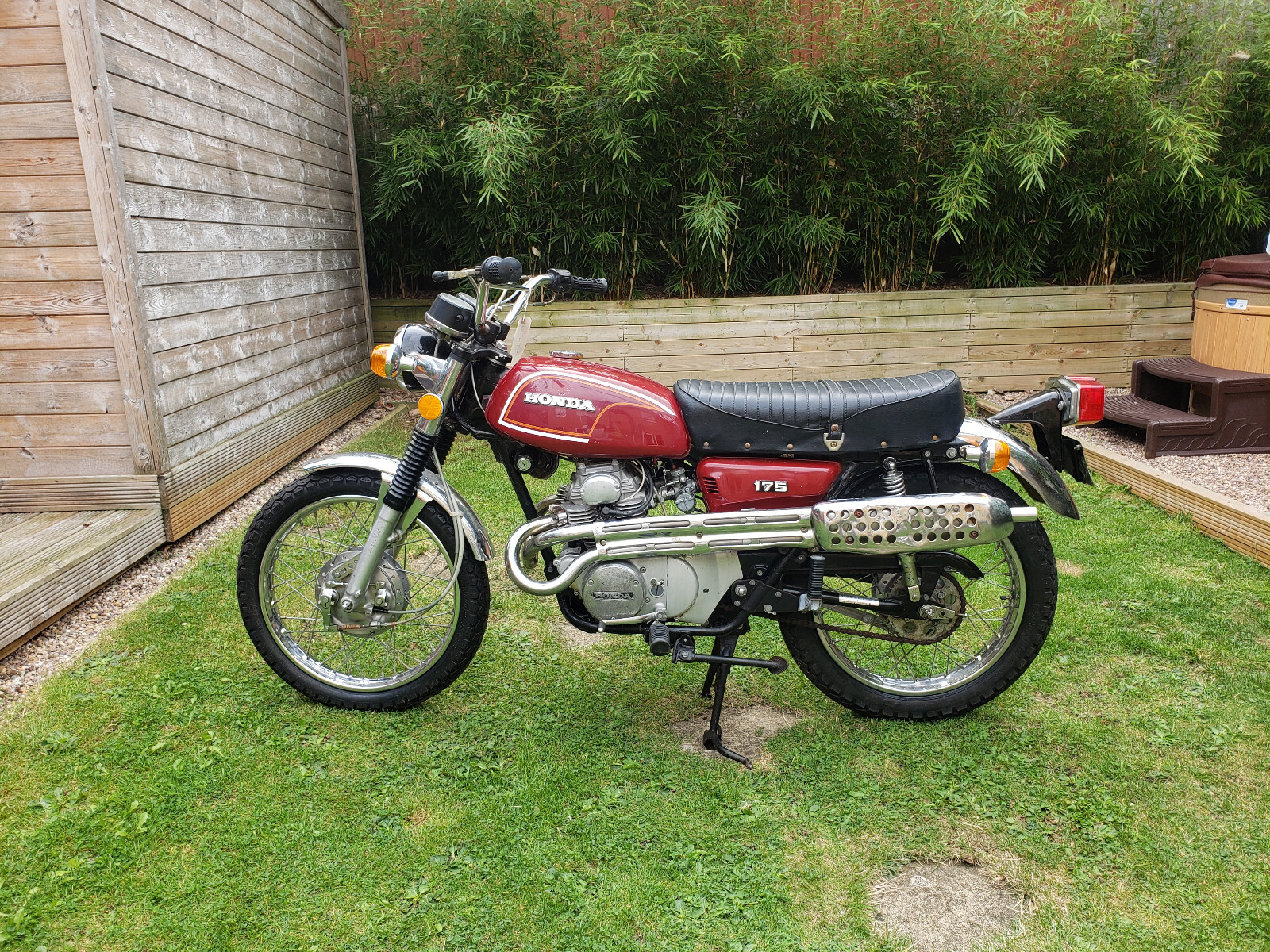 Price: 1,700.00 GBP
Honda CL175 Twin Street Scrambler – 1972 – 2,866 miles from new
>
<![endif]-->
Honda CL175 Twin StreetScrambler – 1972 – 2,866 miles from new. In beautiful original condition. OriginalMinnesota registration documents, plate, owners manual and key. Imported by DKMotorcycles in 2018 (Nova number  & recorded)purchased by me and dry stored since.
The petrol had solidified inthe tank and carbs to a point where they were serviceable – The exhaust wasalso completely rotten.  I have replaced:tank, carbs, throttle cable, exhaust and the throttle cable – All genuine used CL175parts imported by me.  I also fitted a newpetrol tap and fuel lines (Pattern not OEM) – All old parts kept.
I have also had new tyres,tubes and rim tapes fitted, front and rear, and a new Yuasa battery (2019)
The saddle is original, no splitsand the base is not rotten. It has one original mirror (Left side) which stillhas the plastic protective film on the back. Incredibly, electric start!
Was running when purchased.  No spark now but battery is flat. Kicks overfreely – It has NEVER been seized, unlike the majority of bikes of this agethat have been stored for so long.
Would benefit from the tankbeing repainted as there are rust pits in the paint (Minor – Can be used as-is)– ZERO corrosion in the tank and it has not been treated or sealed. You willstruggle to find such an original bike in this condition.
Just requires very light restoration/recommissioning,MOT and registration.  Please get intouch if you have any questions, Thanks.
(Please note that the bike isadvertised locally. I reserve the right to end the auction early if sold privately)