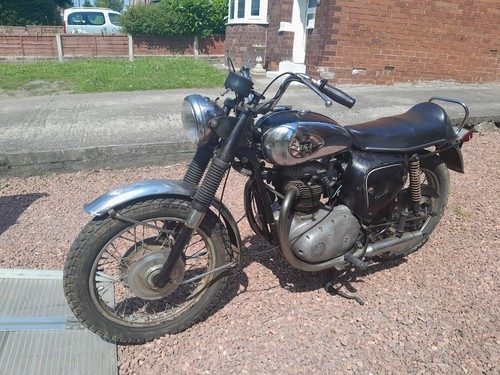 Price: 2,850.00 GBP
BSA A65T THUNDERBOLT = 1969 = CLASSIC PROJECT.
USA IMPORT, MATCHING NUMBERS BIKE WITH NOVA TO REGISTER, ALL ORIGINAL EXCEPT THE SILENCERS, TANK IS DENT FREE, SCRUFFY / PATINA BUT TOO GOOD TO RUIN WITH A TOTAL RESTORATION, MAYBE A CLEAN UP WITH NEW RIMS, SPOKES ARE GOOD , TURNS WITH COMPRESSION , KEY STILL IN THE IGNITION, I HAVE NOT TRIED TO START IT AS ITS A PROJECT REQUIRING SOME WORK. WELL WOTRTH DOING AS ITS AN UNMESSED BIKE, no swaps, ONLY SELLING THIS ONE AS I JUST BOUGHT A T160 AND I HAVE RUN OUT OF SPACE.
VIEWING IS WELOME,    AND PLEASE , NO FALSE PROMISES . 
TEL 07792051064  FOR MORE INFO,  COLLECT WITHIN A WEEK, PLEASE.
 BANK TRANSFER  OR CASH,   thanks.